"Since 2006 more than 5 million students have joined SeekingArrangement.com, the world's largest Sugar Daddy dating site, to meet wealthy benefactors."
These are the words that fill my screen when I google the words "Seeking Arrangement". But why am I doing this? Because I read a harrowing article on this very site in The Sunday Times recently and frankly, it made my blood boil.
We've all heard of the term "Sugar Daddy", right? The term given to rich, older men who open up their wallets to provide for often younger, pretty women that would be off-limits to them in the world of "normal" dating (if that even exists nowadays).
Yet one term you may not be so familiar with is the term "Sugar Babies" – the girls on the receiving end of such "generosity". And one thing that you probably didn't know is that in a few clicks, you can become one of them with the help of website SeekingArrangement.com.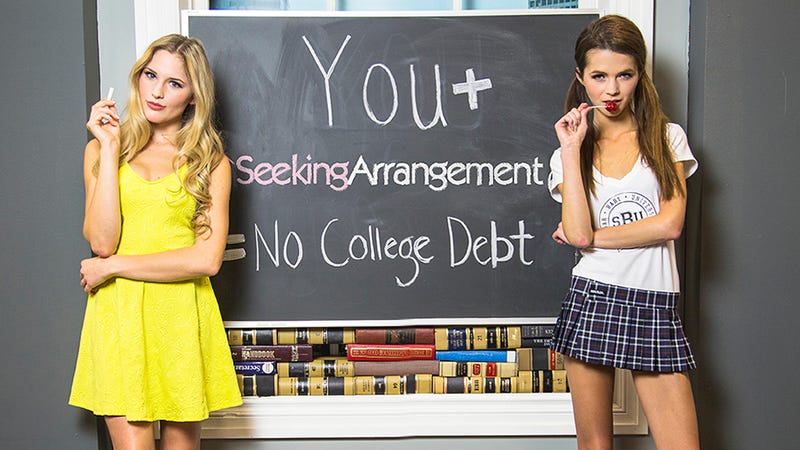 SeekingArrangement.com claim to "offer over 18-s a chance to find discreet, mutually-beneficial relationships connecting "daddies" with "sugar babies who can experience a little luxury" – essentially a glorified escort site, adhering to rich, older men who want to feel like a bit more of a Samaritan and "help" these girls out instead of just hiring escorts to fulfil their companionable and sexual needs.
This site lures young and naive girls in with the promise of no university debt and a monthly "allowance". What's even worse, is that they claim to have had more than 250,000 UK students registered as sugar babies. This comes as no surprise to me, considering they actively market themselves to students – just look at this page of their US site.
Maybe it's the fact that I too have just graduated from university that this really hammered home with me. I, like many other young women my age, understand the burden of university debt and spiraling costs of living. Bursaries are being scrapped left right and centre, and working poorly paid jobs alongside university work is now the norm for many as a means to survive. It's a very tough time for young people – yet sites like this are not the answer.
I know that arrangements like this will always exist in some form or another. But what I really struggle to believe is that here we are, in this day and age, with websites like this openly exploiting young women under the guise of "dating" and "companionship" – let alone marketing themselves TO STUDENTS in such a sexist, misogynistic way, as to use terms such as "sugar daddies" and "sugar babies" – I recoil at the mere terms.
But this article in The Sunday Times did more than just make me recoil – it ignited something in me. The investigative journalist in me decided to sign up to the site under a fake name to see just what these girls, girls who are just like you, or me, your sisters or your daughters are up against – and what the site looked like from the men's side, too.
My findings as a"sugar baby"
The signup process to the site was fairly simple. Stage one is simple data input and your profile photo (I chose one from the lips down and gave a false name and location). Stage two, however, is when things start to get interesting.
I am asked "what type of lifestyle are you looking for?" followed by "What are your monthly spending habits?"  – answers range from I don't have a set budget to "up to $1,000" (around £800) to the highest amount which is "more than $10,000" (around £8000). I choose a middle ground at "up to $5,000" though it strikes me as an oddly phrased question, as surely the whole point of some women being there is that they want a lifestyle they can't already afford?
Within an hour of my profile being approved, I have messages from three men. One reads "Had a slave boy before? Like submissive men who love to please?" and "Greetings
It would be good to explore an arrangement…"
I find these first responses rather comical, considering they can only see what I look like from the lips down. Though arguably, at 23 years old, 5ft7 and curvy, does the rest really matter to these men, the majority of which are old enough to be my Dad?
The next message is slightly more pleasant, telling me a little about himself and asking what brings me to the site. According to his profile, he has an income of more than £620,000.  You can see the temptation of the website for girls right here.
The remaining messages I get are mixed. Some men are single businessmen who are clearly lonely and seek the companionship of someone more committed than an escort but less than a partner. Others seek relationships. Others are "married but looking" , openly writing about their wives disinterest in sex and travel in their profiles.
The salaries of these "sugar daddies" range quite drastically. The men have to write down their Net Worth and Annual Income (though many of these are not verified). These can vary from a more modest 30k to over 600k.
But perhaps the most shocking part of the site has to be the "wishlist section".
This section allows girls to add things they want to their carts for potential suitors to buy – think Versace bags and expensive perfume. Nothing available to buy there is cheap. The fact that, on the homepage, the cart section is headed by text saying "Make sure Daddy gets you the right gift" highlights the creepy sexual undertones of the whole thing. And, it's worth adding, not one mention of a textbook or another other traditional university aid.
I am, needless to say, harrowed by the whole experience.
My findings as a "sugar daddy"
Looking at the profiles of young, pretty and educated women on this site really saddened me. I know they all have their reasons and are free to make their own choices, but all I could think was "you're better than this".
My fake profile was created as a 34-year-old man with a yearly salary of £150,000 – and within 15 minutes if my profile being approved I have 11 messaged and 108 members "interested" in me – or rather, my rich, male counterpart. I am amazed, considering I my profile photo, again, only shows appearances from the chin down.
Sadly I can't read any of these messages without signing up to become a "premium member" – a luxury that would set a member back £59.95 a month. What I really wanted was to get a chance to speak to some of the girls and find out their reasoning. As I couldn't do that, a quick analysis of their profiles said more than enough.
The first profile I found was a 21-year-old who was seeking a "substantial" allowance (up to £6,000 a month). Underneath the "What I'm looking for" heading "I don't mind older as long as you can afford to make me happy." If you thought money can't buy happiness, you're on the wrong website.
Another 21-year-old student's profile states "I do not think I am ready for a sexual arrangement yet, but I would be happy to meet you to discuss an arrangement that could suit both of us. It would be nice to exchange few messages before meeting though. After some bad experiences, I'd rather get to know you a bit before rushing into a meeting."
I wonder, what sort of bad experiences were these? This is not a site you're likely to tell your friends or family members about – just how safe are these girls, going off to god knows where to meet god knows who?
One of the oldest women I could found was a 35 (yes, only 35!) year old accountant. In contrast to the other profiles I saw, hers stated "I'm more interested in experiences than materialistic goods – designer makes don't do anything for me! I enjoy my job and the hobbies that I have, I'm looking to try new experiences and getting to know new people." followed by "Having spent a little bit of time looking around this site and the profiles, I am open to either someone who is married and looking for occasional meets, or someone that is single but doesn't have a great deal of time on his hands."
A 23-year-old student from London states she is after "One long-term mutually beneficial arrangement, need help funding the London lifestyle." … the moral and social issues this site raises are never-ending, it seems.
My thoughts
This site was founded by Brandon Wade, a man who, on his very own website states that "love is a concept invented by poor people" – a level of delusion I can hardly even fathom.
As much as I would like to think that my friends, in practice, would never engage in anything like this it's understandable that there are those who would due to financial worries and more. SeekingArrangement.com is clearly becoming increasingly popular amongst UK students and I would urge girls considering it to not be a victim of circumstance.
If you're the type of person who could happily date or have sex with an older man in exchange for money, that's your call. I would argue that a lot of the girls on this site are not emotionally mature enough to understand the long-term implications of what they are doing – how many of us made entirely good life choices when we were young?
What may seem like "a bit of fun" at the time may have long-term implications. I'd be willing to bet that the majority of these 250,000 British members would feel embarrassed and ashamed should their family and friends find out.
There are many people who will read this and respond with "but no one is forcing these girls to sign up" and that, of course, is true. But though websites and arrangements like this will always exist in some way, shape or form marketing it to young, and in many ways, vulnerable young women is completely unacceptable.
We ALL leave university facing debt. You WILL get a job (ignore what the papers say, it can be done with graft and consistency) and the likelihood for the vast majority of students is that you won't ever end up having to pay it back in full.
Is a little extra "monthly allowance" or selling out on your morals really worth an arrangement that, with a little time and retrospect, could haunt you for the rest of your life?
What are your thoughts?
Yours,
H x